Overview
The Inca Trail to Machu Picchu is the most famous trail in South America. It is recognized by the National Geographic as one of the 10 most beautiful treks in the world. It is considered this for the scenery that shows a wide-range of landscapes, andean mountains, archeological places. During this trek, also the original Inca Trail, sunrises and sunsets in the camps.
On the Inca Trail, you can see ruins during the trek, at the end of this famous trek you will have the biggest prize, enter the Inti Punku to the ruins of Machu Picchu!!
Duration: 4 days
Arrival: Daily
Departure: Daily
Destinations: Cusco, Sacred Valley, Machu Picchu
Activities: Adventure, Trekking, Camping
| | | | |
| --- | --- | --- | --- |
| DAY | DESCRIPTION | MEALS | OVERNIGHT |
| Day 1 | Inca Trail: Cusco to Wayllabamba | (L) (D) | Camping |
| Day 2 | Inca Trail: Wayllabamba to Pacaymayo | (B) (L) (D) | Camping |
| Day 3 | Inca Trail: Pacaymayo to Wiñay Wayna | (B) (L) (D) | Camping |
| Day 4 | Inca Trail: Aguas Calientes – Machu Picchu – Cusco | (B) | —– |
Breakfast (B)

Lunch (L)

Dinner (D)
Itinerary
Day 01: Inca Trail – Cusco to Wayllabamba
Meet your transfer early this morning for the drive from Cusco to Ollantaytambo where you will meet your Inca Trail team.
Continue by car to Piscacucho/KM 82 where the trail begins. The first part of the climb is a gentle uphill. Stop to catch your breath at the Llacatapata ruins and continue through a lush valley to your first campsite for the night in Wayllabamba.
Hike Distance: 10 mi (16 km) | Minimum Altitude: 9,840 ft (3,000 m) | Maximum Altitude: 13,830 ft (4,200 m) | Approximate Time: 6 to 8 hrs | Gradient: Challenging
Day 02: Inca Trail – Wayllabamba to Pacaymayo
Today you face the toughest day of the trek. First, you'll tackle a steep zigzagging climb to Warmiwañusca, known as Dead Woman's Pass, at 13,780 feet. Next, you'll face an equally challenging descent into the Pacaymayo Valley. In exchange for your efforts, you'll get views of majestic Vilcabamba mountains in the distance. Enjoy dinner at your campsite in Pacaymayo and tuck in for a well-earned rest.
Hike Distance: 10 mi (16 km) | Minimum Altitude: 8,700 ft (2,650 m) | Maximum Altitude: 12,500 ft (3,900 m) | Approximate Time: 8 to 10 hrs | Gradient: Moderate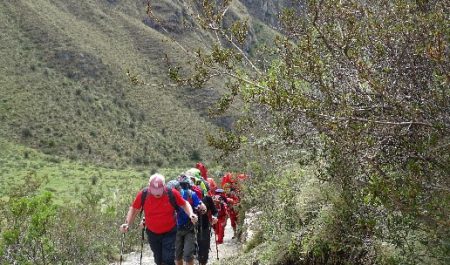 Day 03: Inca Trail – Pacaymayo to Wiñay Wayna
Today the trail into the mountain cloud forest is littered with archaeological sites, each more impressive than the last. You'll see include the Inca lodge Runkurakay; Sayacmarca, perched on a cliff with views of the Aobamba Valley; and Phuyupatamarca, the "Town in the Clouds." Settle down for the night at the final campsite Wiñaywayna and get ready for an early start on the last leg to Machu Picchu.
Hike Distance: 10 mi (16 km) | Minimum Altitude: 8,700 ft (2,650 m) | Maximum Altitude: 12,500 ft (3,900 m) | Approximate Time: 8 to 10 hrs | Gradient: Moderate
Note: If the Wiñaywayna campsite is full by the time you book your trek, Phuyupatamarca will be assigned as your campsite instead. Campsites are assigned as the treks are booked.
Day 04: Inca Trail – Machu Picchu Tour
Wake up before dawn and complete the hour walk to Inti Punku, the Sun Gate, where on you can get your first views of Machu Picchu. Join with your guide and trekking group one last time for a tour through the citadel's stone-lined pathways, along the edge of terraces, and to the foot of structures such as the Temple of the Sun and the Room of 3 Windows that testify to the extraordinary skills of the Incan builders.
After snapping some final photos, board the shuttle bus back to town and transfer to the train station for your return to Cusco.
Hike Distance to Machu Picchu: 2 mi (3 km) | Approximate Time: About 1 hr | Gradient: Moderate
*Customize this package:
Get a bird's eye view of the ruins when you hike Huayna Picchu, the iconic peak that forms the backdrop of many Machu Picchu photos. Permits are limited and must be booked in advance, so let us know asap if you're up for the challenge.
Add an extra day. Spend the night in Aguas Calientes and return to Machu Picchu the next day or explore the surrounding area.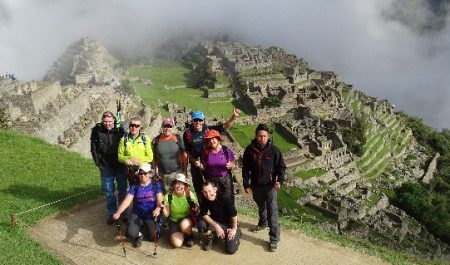 Transport
Our Mobilities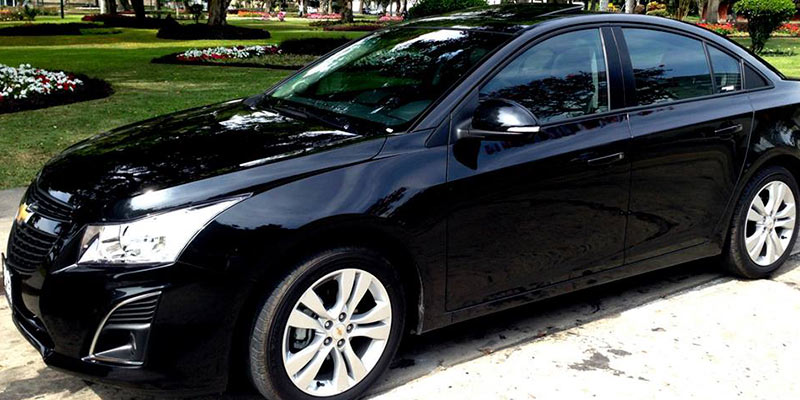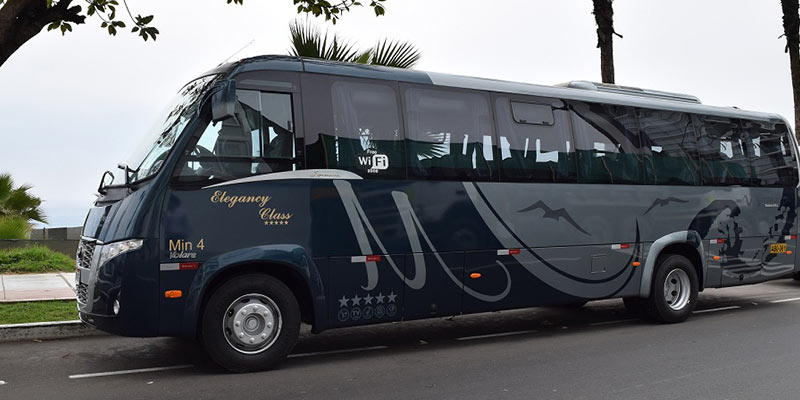 Clean transport
Comfortable seats
Professional drivers
Transportation for solo customers or couples
Transportation for small groups
Transportation for large groups
Train to/from Machu Picchu

Included
Included:
3 nights camping
All meals on the Inca Trail
Tours stated in the itinerary with English speaking guides
Transportation, transfers and entrance fees
Domestic flights (quoted separately from land package cost)
 Personal porter (7kl)
Brief presentation of the Inca Trail at our office in Cusco located one block from the main square
Transportation from Cusco to Piscacucho, located at Km. 82 (Private service)
Entrance ticket to the Inca Trail and Machu Picchu
Meals as mentioned in the itinerary (3B, 3L, 3D)
Varied snacks on days 1, 2, and 3
Boiled water
Trained local cooks and cooking equipment
Four season tents – 2 people per tent
Two-hour guided tour upon your arrival in Machu Picchu
Bus ticket down from Machu Picchu to Aguas Calientes
Train ticket Aguas Calientes / Poroy departing between 15:00 – 18:35 hours
Transfer from the train station of Ollantaytambo to your Hotel in Cusco
Vegetarian food available upon request with no extra charge
Emergency oxygen bottle
First aid equipment
Airfare and hotel advice upon request as well as booking
Not included:
International flights
Lunches and dinners (unless specified otherwise)
Sleeping bag (can be rented in Cusco)
Gratuity
Pricing
Land Package
All prices listed below are per passenger and cover only the land-based portion of the trip. Flights not included.
PRICE
USD $ 750.00 /person
Double Occupancy
Inca Trail FACTS
The vast Inca's Empire was connected by an extended Inca trail system. The Classic Inca Trail is the most popular trail in Peru. This is the only trail that has as final destination, Machu Picchu. There are several places from where it is possible to start the Inca Trail, but the most popular one is the Classic Inca Trail which consists of a hike of 4 Days and 3 Nights.
The Classic Inca Trail is located in Cusco, Peru. If you would like to hike the Inca Trail, you will need to have permit because the Peruvian government only allows 500 people per day. The only way to get a permit is by hiring a registered tour operator or a travel agency working directly with a tour operator. All tour operators and travel agencies offer packages including the permit and other services. It is important to get book your Inca Trail with a travel agency or tour operator that is going to provide you the service that you are paying for.
The Classic Inca Trail starts at the kilometer 82 where the small Andean community of Piskacucho is located. Piskacucho is located about 8,500 feet above sea level. On the way to your first campsite you will be able to observe the Urubamba River, beautiful nevadoes, and the ruins of Huillcaraccay, Patallacta, and Pulpituyoc. Wayllabamba is the name of your first campsite and is located about 10,160 feet above sea level.
The second day of the Inca Trail is the most difficult one because you will hike at a constant incline until you reach the first pass named Warmiwañuska or Dead Women's Pass which is located about 13,770 feet above sea level. This is the highest point of the Inca Trail and you will be able to enjoy a beautiful view. Your second campsite is named Pacaymayo which is located about 11,800 feet above sea level. This is a magical spot where you will enjoy of the mystical view provided by a sky full of stars.
The third day of the Inca Trail is the most beautiful one. A magical path is going to take you to your next campsite named Wiñaywayna. Right after starting the day, you will visit the ruins of Runkurakay and then you will recah to the second pass named Runkurakay located about 12,330 feet above sea level. On the way to your last campiste, you will visit the ruins of Sayacmarca and Phuyupatamarca. Once at Wiñaywayna, you might visit the ruins of the same name.
The fourth day of the Inca Trail, you will wake up very early and then you will start your hike at about 5:30a.m. In order to arrive at dawn to the Gate of the Sun or Intipunku which is located about 8,920 feet above sea level. If it is not cloudy, you will have an incredible view of Machu Picchu. Once at Machu Picchu, your guide will take you to the main temples and rooms of Machu Picchu for about two hours. Later on, you will take a bus to Aguas Calientes. Once in Aguas Calientes, you will take a train to Ollantaytambo and then a transfer will drive to your hotel in Cusco.
Hiking the Inca Trail is an amazing experience wich you will never forgetin your life. In order to be ready to hike the Inca Trail, you should acclimatize to the altitude of Cusco. Also, you should be in shape to really enjoy the trek. If you are not used to hike, the service of an extra porter should be hired to carry your personal belongings.