Overblik
Inkaruten til Machu Picchu er den mest kendte rute i Sydamerika. Den er anerkendt af National Geographic som en af de 10 smukkeste ruter i verden. Dette skyldes den betagende natur, landskaberne, Andesbjergene og de arkæologiske områder.
På Inkaruten kan du opleve adskillige ruiner, og til sidst på turen får du den største oplevelse af dem alle; Inti Punku (solporten) til Machu Picchus ruiner.
Varighed: 4 dage
Arrival: Daglig
Departure: Daglig
Steder: Cusco, Den Hellige Dal, Machu Picchu
Aktiviteter: Oplevelse, Trekking, Camping
| | | | |
| --- | --- | --- | --- |
| DAG | BESKRIVELSE | MÅLTIDER | OVERNATNING |
| Dag 1 | Inkaruten: Cusco til Wayllabamba | (F) (A) | Camping |
| Dag 2 | Inkaruten: Wayllabamba til Pacaymayo | (M) (F) (A) | Camping |
| Dag 3 | Inkaruten: Pacaymayo til Wiñay Wayna | (M) (F) (A) | Camping |
| Dag 4 | Inkaruten: Aguas Calientes – Machu Picchu – Cusco | (M) | —– |
Morgenmad (M)

Frokost (F)

Aftensmad (A)
Dagsprogram
Dag 01: Inkaruten – Cusco til Wayllabamba
Tidligt denne morgen bliver du transporteret fra Cusco til Ollantaytambo. I Ollantaytambo bliver du mødt af din guide og dit hold.
I fortsætter med bil til Piscacucho/KM 82 hvorfra vandreturen begynder. Den første del af turen bliver med en let stigning. Tag en pause ved Llacatapata ruinerne, og fortsæt derefter gennem dalen til dit første overnatningssted i Wayllabamba.
Distance: 16 km
Laveste punkt: 3000 m
Højeste punkt: 4200 m.
Varighed: 6 til 8 timer
Sværhedsgrad: udfordrende
Dag 02: Inkaruten – Wayllabamba til Pacaymayo
I dag bliver den hårdeste trekking-dag. Først skal vi igennem en stejl rute til Warmiwanusca, kendt som Dead Woman's Pass, i 4200 meters højde. Bagefter, kan du se frem til en lignende udfordring på turen til Pacaymayo dalen. Som belønning for din indsats, får du udsigt over de majestætiske Vilcamamba-bjerge. Aftensmaden bliver serveret på vores campingplads i Pacaymayo, og herefter kan du tage dig en velfortjent nats søvn.
Distance: 16 km
Laveste punkt: 2650 m
Højeste punkt: (3900 m)
Varighed: 8 til 10 timer
Sværhedsgrad: moderat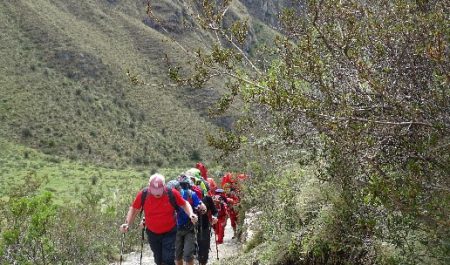 Dag 03: Inkaruten – Pacaymayo til Wiñay Wayna
Dagens vandretur igennem The Cloud Forest (sky-skoven) bliver en spændende oplevelse som byder på mange arkæologiske attraktioner – den ene mere fascinerende end den anden. Dette indebærer bland andet Inka-boligen Runkurakay; Sayamarca, beliggende på en klippe med udsigt over Aobamba dalen; og Phuyupatamarca the Town in the Clouds (byen i skyerne). Tag dig en velfortjent nats søvn på den sidste campingplads i Winaywayna og forbered dig på turens sidste etape til Machu Picchu, tidligt morgenen efter.
Distance: 16 km
Laveste punkt: 2650 m
Højeste punkt: 3900 m
Varighed: 8 til 10 timer
Sværhedsgrad: moderat
Bemærk: Hvis campingpladsen i Winaywayna er optaget når du booker din rejsepakke, bliver du automatisk overført til campingpladsen i Phuyupatamarca. Så snart du booker din rejse bliver du tildelt en campingplads.
Dag 04: Inkaruten – Machu Picchu
I dag, før daggry, starter vi med en times vandring til Inti Punku (Sol Porten), hvorfra vi får den første udsigt over Machu Picchu. Tag med din guide og trekking gruppe en sidste gang på tur for at beundre alle fæstningerne og de mange terrasser. Bemærk de fascinerende strukturer i fæstninger såsom Temple of the Sun (soltemplet) og the Room of Three Windows (rummet med tre vinduer) som alle demonstrerer Inkaernes ekstraordinære evner indenfor arkitektur. Når du har taget de sidste billeder, går turen (med bus) tilbage til togstationen, hvorfra du vil blive transporteret til Cusco.
Distance til Machu Picchu: 3 km
Varighed: Ca. en time
Sværhedsgrad: moderat
* Tilpas denne pakke: (costumize this package)
Se ruinerne i fugleperspektiv når du vandrer til Hayna Picchu, det ikoniske bjerg som ses i baggrunden på mange billeder fra Machu Picchu. Pladserne er begrænset og skal bookes i god tid i forvejen. Så giv os besked hurtigst muligt, hvis du ønsker at tage udfordringen op.
Tilføj en ekstra dag. Overnat I Aguas Calientes og tag tilbage til Machu Picchu næste dag, eller udforsk området.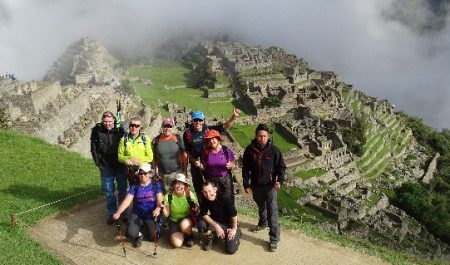 Transport
Our Mobilities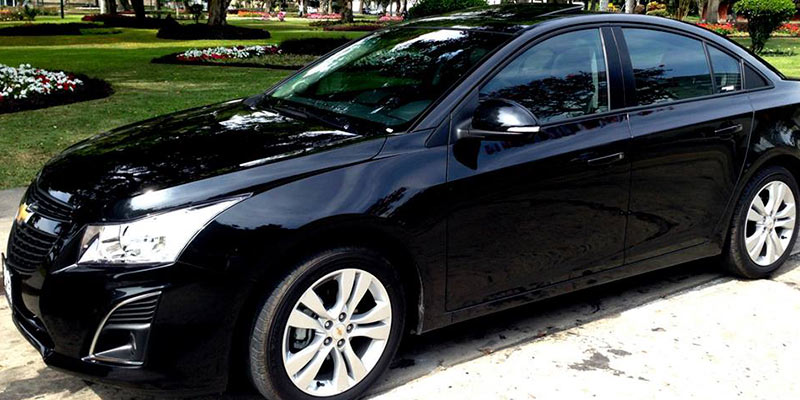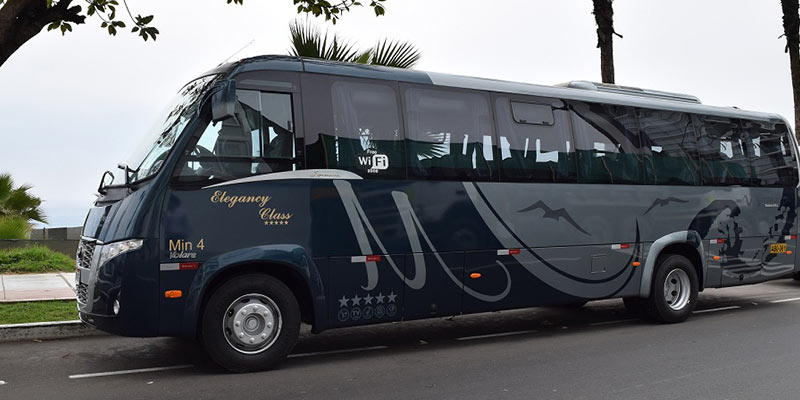 Clean transport
Comfortable seats
Professional drivers
Transportation for solo customers or couples
Transportation for small groups
Transportation for large groups
Train to/from Machu Picchu

Inkluderet
Included:
3 nights camping
All meals on the Inca Trail
Tours stated in the itinerary with English speaking guides
Transportation, transfers and entrance fees
Domestic flights (quoted separately from land package cost)
 Personal porter (7kl)
Brief presentation of the Inca Trail at our office in Cusco located one block from the main square
Transportation from Cusco to Piscacucho, located at Km. 82 (Private service)
Entrance ticket to the Inca Trail and Machu Picchu
Meals as mentioned in the itinerary (3B, 3L, 3D)
Varied snacks on days 1, 2, and 3
Boiled water
Trained local cooks and cooking equipment
Four season tents – 2 people per tent
Two-hour guided tour upon your arrival in Machu Picchu
Bus ticket down from Machu Picchu to Aguas Calientes
Train ticket Aguas Calientes / Poroy departing between 15:00 – 18:35 hours
Transfer from the train station of Ollantaytambo to your Hotel in Cusco
Vegetarian food available upon request with no extra charge
Emergency oxygen bottle
First aid equipment
Airfare and hotel advice upon request as well as booking
Not included:
International flights
Lunches and dinners (unless specified otherwise)
Sleeping bag (can be rented in Cusco)
Gratuity
Priser
Land Package
All prices listed below are per passenger and cover only the land-based portion of the trip. Flights not included.
PRICE
EUR  € 690.00 /person
Double Occupancy
Inca Trail FACTS
The vast Inca's Empire was connected by an extended Inca trail system. The Classic Inca Trail is the most popular trail in Peru. This is the only trail that has as final destination, Machu Picchu. There are several places from where it is possible to start the Inca Trail, but the most popular one is the Classic Inca Trail which consists of a hike of 4 Days and 3 Nights.
The Classic Inca Trail is located in Cusco, Peru. If you would like to hike the Inca Trail, you will need to have permit because the Peruvian government only allows 500 people per day. The only way to get a permit is by hiring a registered tour operator or a travel agency working directly with a tour operator. All tour operators and travel agencies offer packages including the permit and other services. It is important to get book your Inca Trail with a travel agency or tour operator that is going to provide you the service that you are paying for.
The Classic Inca Trail starts at the kilometer 82 where the small Andean community of Piskacucho is located. Piskacucho is located about 8,500 feet above sea level. On the way to your first campsite you will be able to observe the Urubamba River, beautiful nevadoes, and the ruins of Huillcaraccay, Patallacta, and Pulpituyoc. Wayllabamba is the name of your first campsite and is located about 10,160 feet above sea level.
The second day of the Inca Trail is the most difficult one because you will hike at a constant incline until you reach the first pass named Warmiwañuska or Dead Women's Pass which is located about 13,770 feet above sea level. This is the highest point of the Inca Trail and you will be able to enjoy a beautiful view. Your second campsite is named Pacaymayo which is located about 11,800 feet above sea level. This is a magical spot where you will enjoy of the mystical view provided by a sky full of stars.
The third day of the Inca Trail is the most beautiful one. A magical path is going to take you to your next campsite named Wiñaywayna. Right after starting the day, you will visit the ruins of Runkurakay and then you will recah to the second pass named Runkurakay located about 12,330 feet above sea level. On the way to your last campiste, you will visit the ruins of Sayacmarca and Phuyupatamarca. Once at Wiñaywayna, you might visit the ruins of the same name.
The fourth day of the Inca Trail, you will wake up very early and then you will start your hike at about 5:30a.m. In order to arrive at dawn to the Gate of the Sun or Intipunku which is located about 8,920 feet above sea level. If it is not cloudy, you will have an incredible view of Machu Picchu. Once at Machu Picchu, your guide will take you to the main temples and rooms of Machu Picchu for about two hours. Later on, you will take a bus to Aguas Calientes. Once in Aguas Calientes, you will take a train to Ollantaytambo and then a transfer will drive to your hotel in Cusco.
Hiking the Inca Trail is an amazing experience wich you will never forgetin your life. In order to be ready to hike the Inca Trail, you should acclimatize to the altitude of Cusco. Also, you should be in shape to really enjoy the trek. If you are not used to hike, the service of an extra porter should be hired to carry your personal belongings.